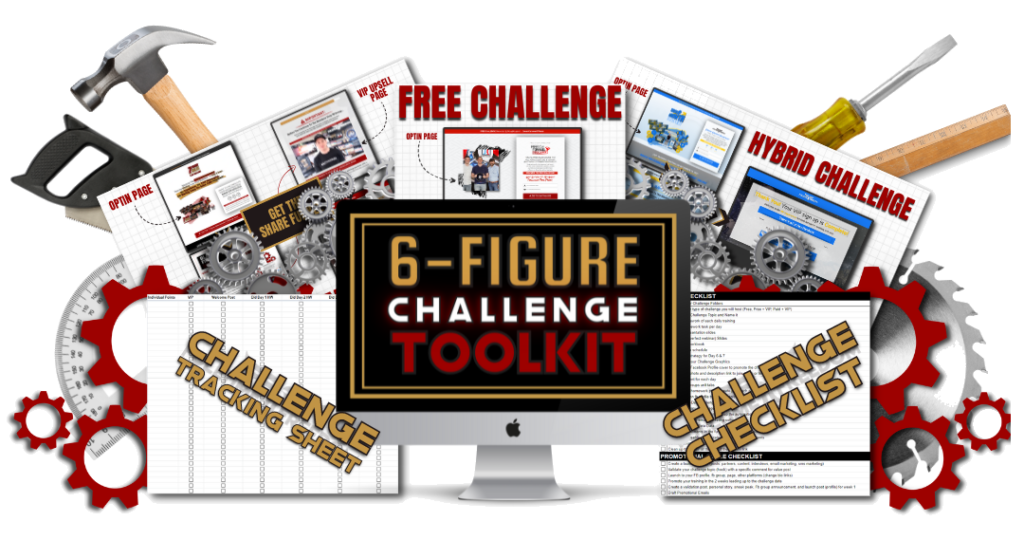 With our free Challenge Toolkit,  you can start attracting and enrolling clients in bulk, in less than 5 days per month, even if you do not have a huge following or paid advertising. 
This training covers the basics of running a 5 day challenge and includes funnel templates, challenge checklists and more!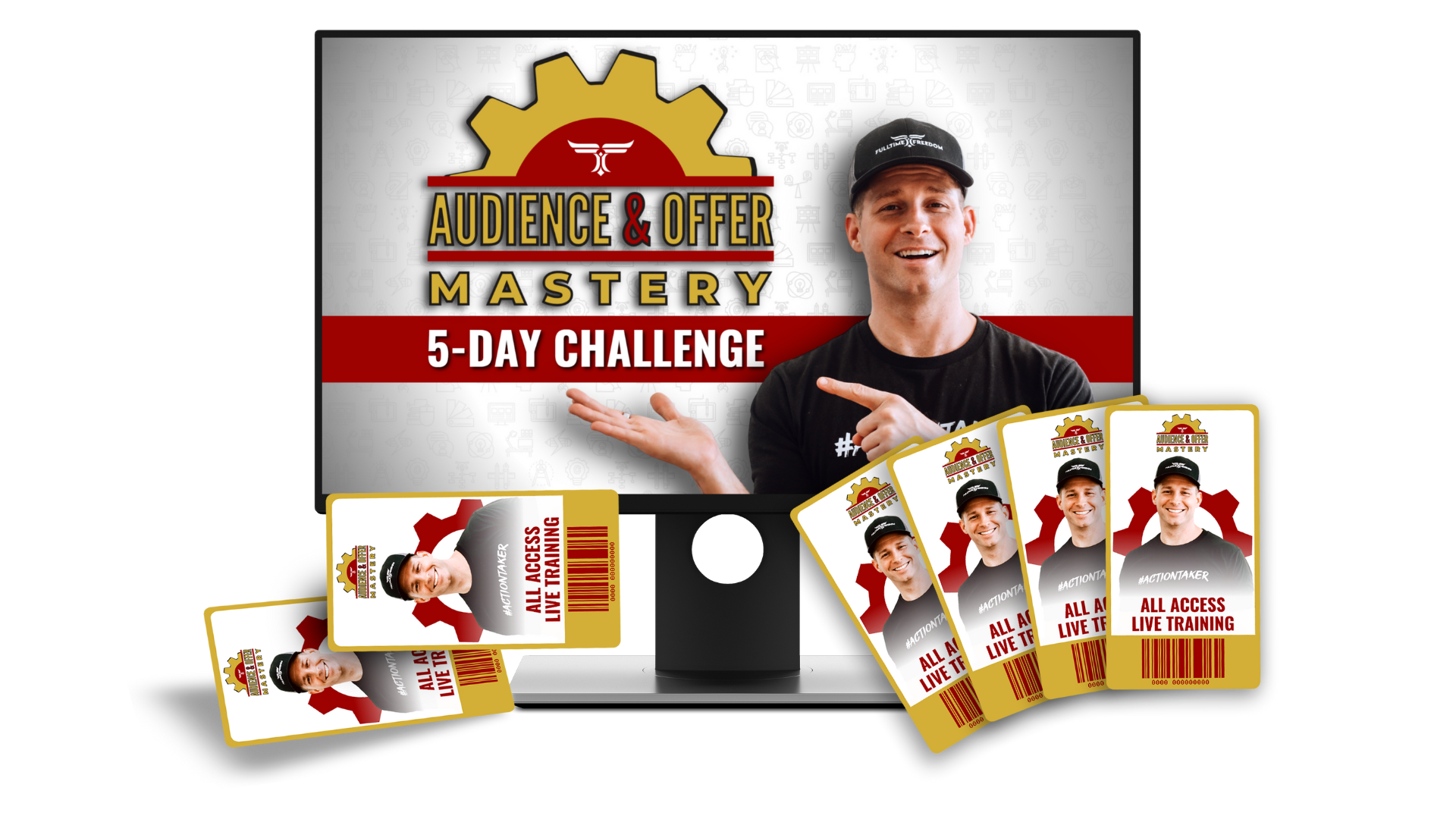 Audience & Offer Mastery Challenge​
Your Fastest Path To Create A Winning Offer that SELLS!
Join the 5 Day Audience & Offer Mastery Challenge and learn how to PACKAGE your message into A WINNING OFFER THAT SELLS…
This LIVE challenge includes in depth training sessions, projects, Q & A and feedback sessions designed to help you map out and build your irresistable offer and audience growth blueprint in just 5 days!
audience & offer mastery
Membership
Step into the world of online entrepreneurship with Doug Boughton's Audience & Offer Mastery (A&O), the essential prerequisite to our Fulltime Freedom Academy. 
Perfect for those in the beginning stages of their entrepreneurial journey, A&O equips you with the tools to build a loyal audience and develop a winning offer. 
Discover how to validate and start selling your offer through real-world testing with a beta group. Plus, become part of an exclusive community of like-minded individuals committed to achieving success. 
With A&O, you're not just learning; you're paving the way for a lifetime of entrepreneurial freedom. Enroll today and set the stage for your entry into our Fulltime Freedom Academy!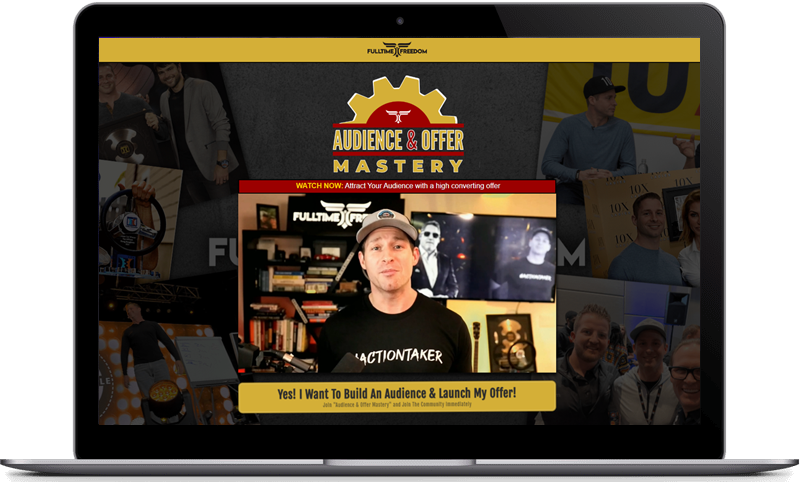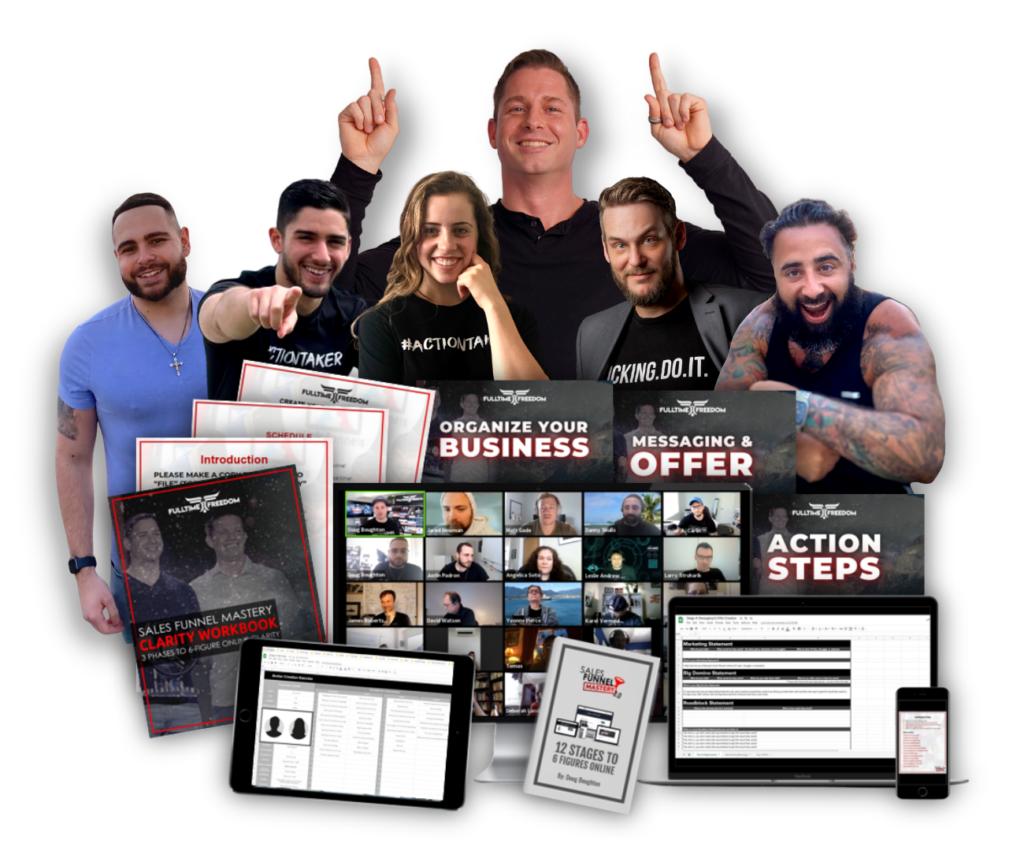 Unlock exponential growth with Full-Time Freedom Academy, tailored for ambitious entrepreneurs. Qualify by meeting our monthly income criteria or by graduating from our A&O program, where you'll create a high-converting offer. 
Inside, you'll master live launches, refine your offer through 5-day challenges, and learn to craft compelling pitches. Enjoy free access to our $2,000-valued monthly bootcamps led by Doug, and join a community of high-achievers.
 With a track record of propelling clients to Two Comma Club Awards and consistent high earnings, this program offers an irresistible ROI. Apply now for a transformative business experience.
Program cost:  $15,000
These aren't your average workshops. Led by Doug himself, these one-day intensives cover A to Z of sales funnels, conversion optimization, and more. 
Valued at $2,000, these bootcamps are absolutely free for academy members.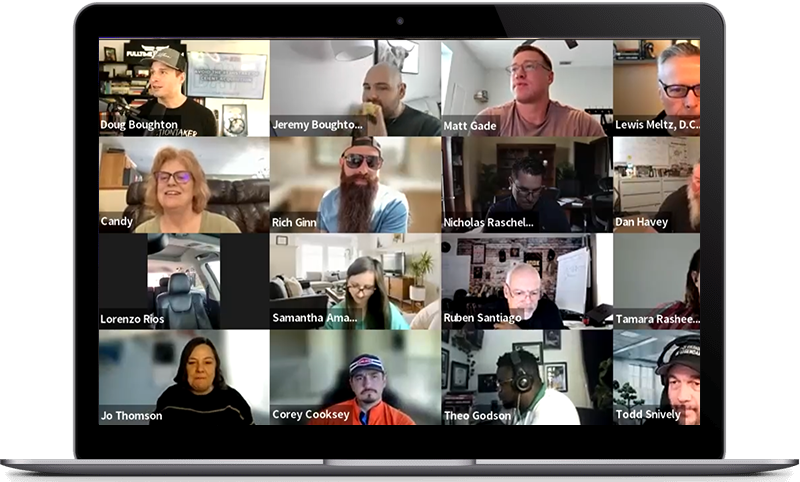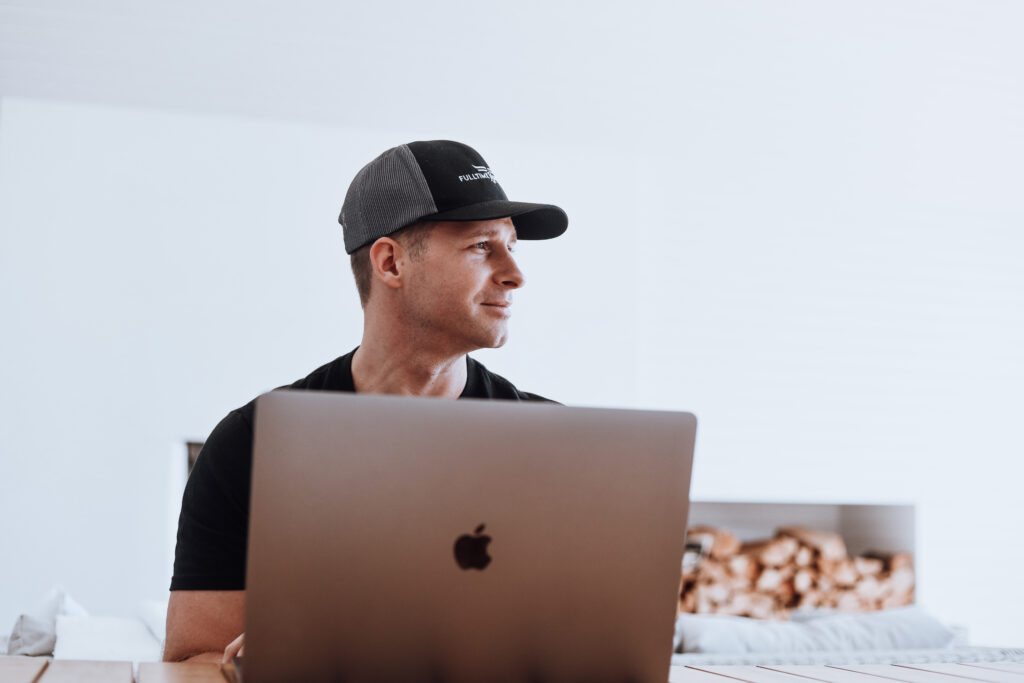 1:1 Coaching call WIth Doug
Elevate your 5-Day Challenge and offer to unparalleled success with our Exclusive 1:1 Coaching Call with Doug. 
This premium service is designed for entrepreneurs who want expert eyes on their strategies. Doug, the mastermind behind the Full-Time Freedom Academy, will personally review your challenge and offer, providing invaluable insights and actionable recommendations. 
From fine-tuning your messaging to optimizing your conversion funnels, Doug's personalized feedback will address every facet of your challenge to ensure maximum ROI. 
Ideal for those committed to achieving extraordinary results, this one-on-one session is your golden ticket to transforming your challenge and offer into a high-converting success. 
Book your session now for a transformative experience that will redefine your business trajectory.
Cost: $1,000 
Discover our Turnkey 5-Day Challenge Service, designed for busy entrepreneurs eager to elevate their client engagement and revenue. 
Drawing from the successful methodologies of our Full-Time Freedom Academy, our specialized team takes the reins to plan, execute, and oversee a 5-day challenge uniquely crafted for your business. 
We manage everything from 5-day funnel design to challenge assets freeing you to concentrate on your core business activities. 
Perfect for those seeking impactful results without the operational complexities, this service is your fast track to a high-converting, successful challenge.
Cost: $40,000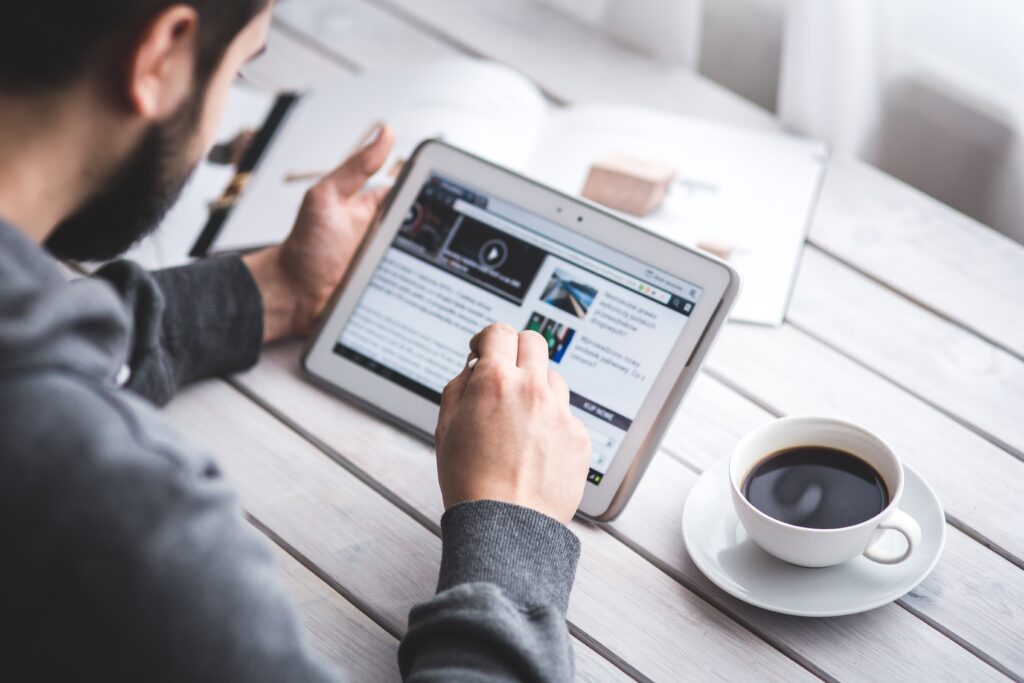 REAL PEOPLE, REAL RESULTS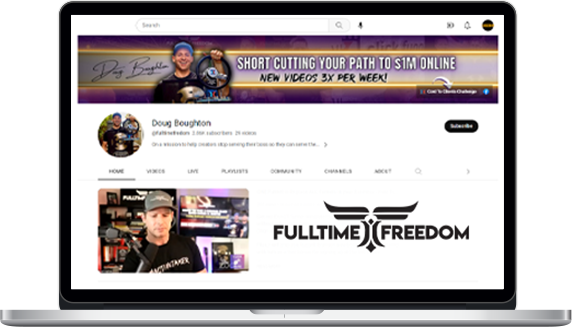 Unlock a wealth of knowledge and support with our free private community, featuring live trainings every Thursday. 
Whether you're a seasoned entrepreneur or just starting out, this dynamic community offers invaluable insights, real-time guidance, and a network of like-minded individuals to help you navigate your entrepreneurial journey. Join Our Free Community Here
Join our free Facebook community and learn how to create 5 day challenges that will change your life.
Copyright 2023 © Digital StrADegy, LLC | All Rights Reserved
IMPORTANT DISCLAIMERS: 
All Earnings and income representations are aspirational statements only of your earnings potential. The success of Digital StrADegy LLC, testimonials and other examples used are exceptional, non-typical results and are not intended to be and are not a guarantee that you or others will achieve the same results. Individual results will always vary and yours will depend entirely on your individual capacity, work ethic, business skills and experience, level of motivation, diligence in applying the Digital StrADegy LLC Programs, the economy, the normal and unforeseen risks of doing business, and other factors.
The Digital StrADegy LLC Programs, are not responsible for your actions. You are solely responsible for your own moves and decisions and the evaluation and use of our products and services should be based on your own due diligence. You agree that the Digital StrADegy LLC Programs are not liable to you in any way for your results in using our products and services. See our Terms of Service for our full disclaimer of liability and other restrictions.
Copyright 2023 © Digital StrADegy, LLC  | www.Dougboughton.com